Research
Moorfields Eye Hospital and the UCL Institute of Ophthalmology (IoO) are working together to develop ground breaking, world-leading research to improve eye care. The partnership is top-ranked internationally in the field of ophthalmology and is the only hospital-university partnership in the UK that is ranked number one globally in any medical field. Moorfields Eye Charity is the main grant-making and fundraising charity for Moorfields and the IoO, investing funds in vital research above the responsibility of the NHS.
Together, Moorfields and the IoO provide globally recognised research, excellent education and outstanding clinical care. This impressive reputation has secured prestigious funding and awards and has brought the status of National Institute for Health Research (NIHR) Biomedical Research Centre to the joint partnership.
Our research spans from developing gene therapies for inherited eye diseases to stem cell treatments for age-related macular degeneration, which is part of the London Project to Cure Blindness. We also have an exciting partnership with Google DeepMind where we are using artificial intelligence to improve retinal diagnosis.
Sight loss is becoming an increasing reality for many people. This, combined with our ever-growing ageing population, means demand for our services is set to increase significantly. Oriel would allow scientists and clinicians to collaborate more closely to convert research insights into patient treatments more quickly, changing people's lives and bringing the best care to more people.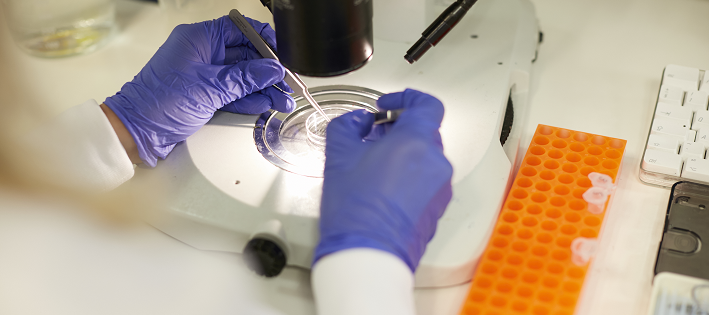 Discovery
We are working to improve early detection and treatment of diseases as well as developing therapeutic techniques which can be applied before the disease causes irreversible damage to the eye, saving the sight of our patients. Clinicians and scientists working together to tackle eye problems can lead to incredible results in the field of ophthalmology.
Oriel's new facilities would allow us to build on our outstanding research record. The co-location of clinicians and scientists would maximise the opportunity to translate discovery science into experimental medicine and increase access to clinical trials by patients. This would lead to new medical technologies, diagnostics, pharmaceuticals and digital products, allowing us to make major strides in eye care. Such innovations are key to improving eye health for patients.
Through Oriel we would modernise how we think about health and disease and how best to manage them. It would span seven crucial areas, each of which will contribute to the development of new treatments:
Fundamental science and discovery
Cell and gene therapy
Drug development
Diagnostics and AI
Experimental medicine and early phase clinical studies
Imaging for cellular function and diagnosis
Development of care pathways.
The partnership that Oriel brings will transform scientific discoveries from laboratory, clinical or population studies into new tools and applications that improve our patients' health.
One facility
Currently, Moorfields Eye Hospital and the IoO are close to each other but are not located in one facility. This lack of integration between research and hospital care within the current facilities is a barrier to widening our research portfolio effectively, as well as increasing patient engagement and participation in our research.
Bringing the IoO and Moorfields into one building will create an environment where researchers and clinicians can freely work together. The design of the new building will enhance collaborative working, increasing discovery and innovation for eye health.
The new site would also enhance the effectiveness of our leading-edge research by enabling greater collaboration with other important health and research partners such as other UCL faculties and the Francis Crick Institute.
At the moment, less than 5% of patients are able to participate in clinical research. Through Oriel, we would be able to involve many more patients in research by having the physical space to do so. This would have a positive impact on patient outcomes and bring innovation in treatments of eye disease into the mainstream quicker.
Oriel would allow for the important research that takes place at Moorfields and the IoO to be incorporated into treatments, so these benefits can directly improve patient care.
Industry
Working closely with industry partners would allow for greater innovation and economic growth which we can feed back into greater research technologies. Improving relationships between the healthcare system and industries would allow us to help more patients.
The new integrated facility would enable the use of physical and virtual technology to foster open innovation. Oriel would act as a central hub for the rapid exchange and promotion of information sharing. This would enable us to share ideas and provide us with a clear understanding of industry, academic and societal needs and trends so we can remain at the forefront of research.
Workforce
Oriel would complement and support existing career development and training activity to develop our current talented staff. It would also attract new researchers from all over the world to further enhance our achievements in ophthalmic research. The new building would facilitate the retention and recruitment of internationally renowned scientists, reinforcing and expanding our current research expertise.