Decision-making process
The major decisions that would lead to the start of construction NHS Improvement requires Moorfields to submit a strategic outline case, outline business case and full business case for capital investment proposals of this value.
In this section, we explain some of the main decision-making steps taken to date and next steps, including where plans would be tested before proceeding to the next phase.
Decisions to date
Initial consultation by Moorfields Eye Hospital NHS Foundation Trust on a proposed new centre for Moorfields Eye Hospital, UCL and Moorfields Eye Charity.
Moorfields' trust board agreed to develop a proposal to build a new centre at the preferred St Pancras site.
Moorfields' trust board approved a non-binding option to purchase the preferred St Pancras site from Camden and Islington NHS Foundation Trust.
Moorfields' trust board approved the selection of the architectural design team.
The independent London Clinical Senate approved the clinical case for change.
The regulators, NHS England and Improvement, assured a pre-consultation business case.
Commissioners, NHS England Specialised Commissioning and CCGs' Committees in Common approved the pre-consultation business case and agreed to proceed to public consultation.
North Central London Joint Health Overview and Scrutiny Committee endorsed the plan for public consultation on behalf of all local authorities.
Next steps
The phases of the programme will depend on what decisions are made at several key stages but the following outlines what the timeline may look like.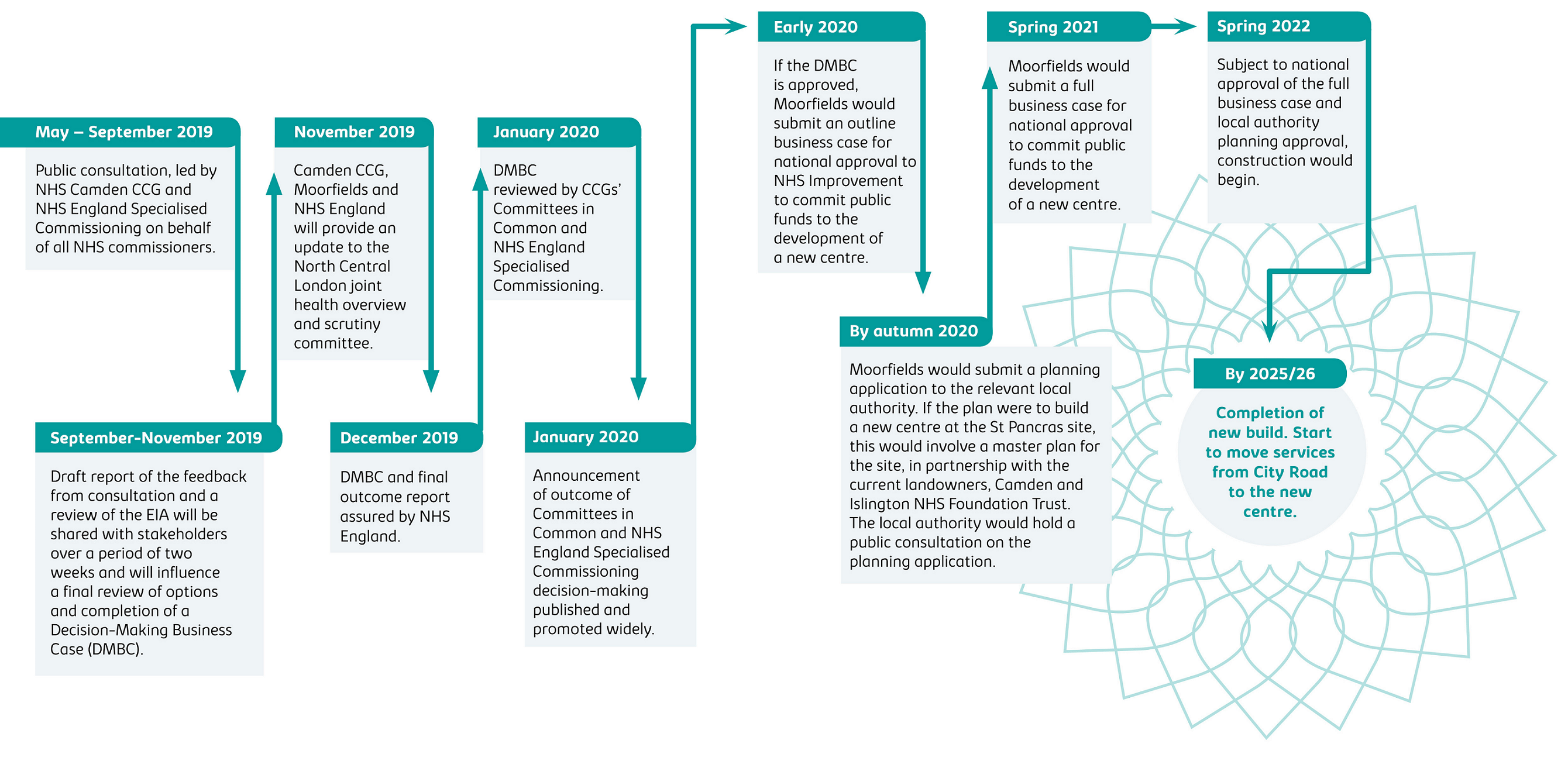 Alternative options
While the current preferred option is to build a new centre at the St Pancras Hospital site, we remain open to other potential locations and are seeking suggestions as part of this consultation process.
Any new locations would be subject to the same appraisal process and all options (including any new ones) will be re-appraised after the consultation as part of the decision-making business case process.