Outside the centre
Approaching the new centre
As the site is on a slight slope, there will be a lower entrance to the south of the building on St Pancras Way and an upper entrance to the north of the building on Granary Street. Because there is a flat stretch of ground at St Pancras Way, this will be the best place for patient drop-off, particularly for wheelchair users and people with mobility issues.

An image demonstrating the slight slope of the Oriel site
There will be no parking on the site itself, other than three bays that will be available for staff that hold blue badges, but there are carparks nearby. This is consistent with the London Plan and the same as at the current Moorfields and UCL sites.
The drop off area will be an improvement on current facilities. From the drop-off area, there will be immediate access to A&E for emergencies. Most people will walk from the drop-off point under the cover of a colonnade around the corner of the building to the main entrance in Heritage Square. Because of the slight slope, there will be steps and a ramp from the walkway to the entrance, with tactile paving, handrails and lighting to support people with sight loss.
See below for a map of the site, showing the south and north entrances and the location of patient drop off on St Pancras Way.
Although not yet designed, we are discussing with accessibility experts and patient representatives the use of tactile floor markings as part of our wayfinding strategy.
People have raised the issue of having a relief area for assistance dogs and we are designing this close to the main entrance with recommendations from Guide Dogs.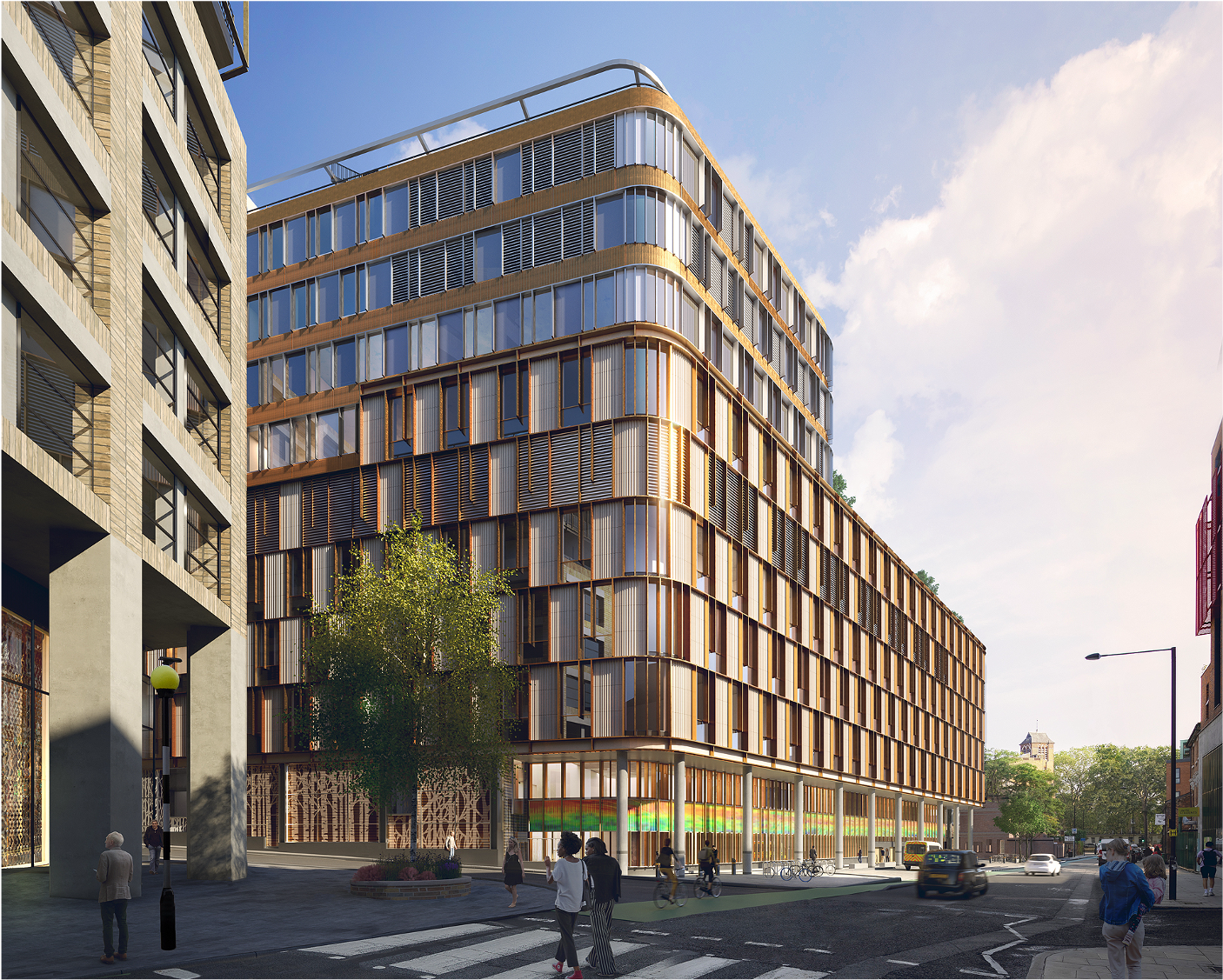 To ensure that the building is in keeping with the existing Victorian and early 20th Century buildings to the south and southwest of the site, the new centre will rise from seven storeys on the southwest wing to ten storeys on the north wing.
The outside of the building will comprise of ceramic panels, aluminium glass and wood.
At the base of the building, there will be a combination of glazed glass to allow for transparency on the public-facing level.
The proportion of glass to solid is calculated to let daylight permeate the building without glare or overheating. This will also allow thermal insulation for efficient energy use.
We envisage to have fragments of nature flowing from the outside of the building towards to the inside. The periphery of the building will have a sequence of planters containing shrubs and trees to complement the scale of the building and provide shade and places to sit and rest.