The masterplan
We are proposing to develop two acres of the five-acre St Pancras Hospital site.
The five-acre site of St Pancras Hospital is currently owned by Camden and Islington NHS Foundation Trust. The existing mental health inpatient wards located at St Pancras Hospital are planned to move to a new, purpose-built facility next to the existing Highgate Mental Health Centre and the Whittington Hospital.
Proposals to redevelop for the remaining three acres of the St Pancras Hospital are being brought forward by Camden and Islington NHS Foundation Trust development partner King's Cross Central Limited Partnership (KCCLP). KCCLP is still at a very early stage of design for their development, but we are already working closely with them to ensure the whole area is developed seamlessly and becomes a genuinely open, accessible, and positive contribution to the neighbourhood. We are working with KCCLP to ensure a coordinated approach with their emerging masterplan and to ensure the two schemes knit seamlessly together. For more information on Camden and Islington's plans to redevelop their facilities, please visit their website.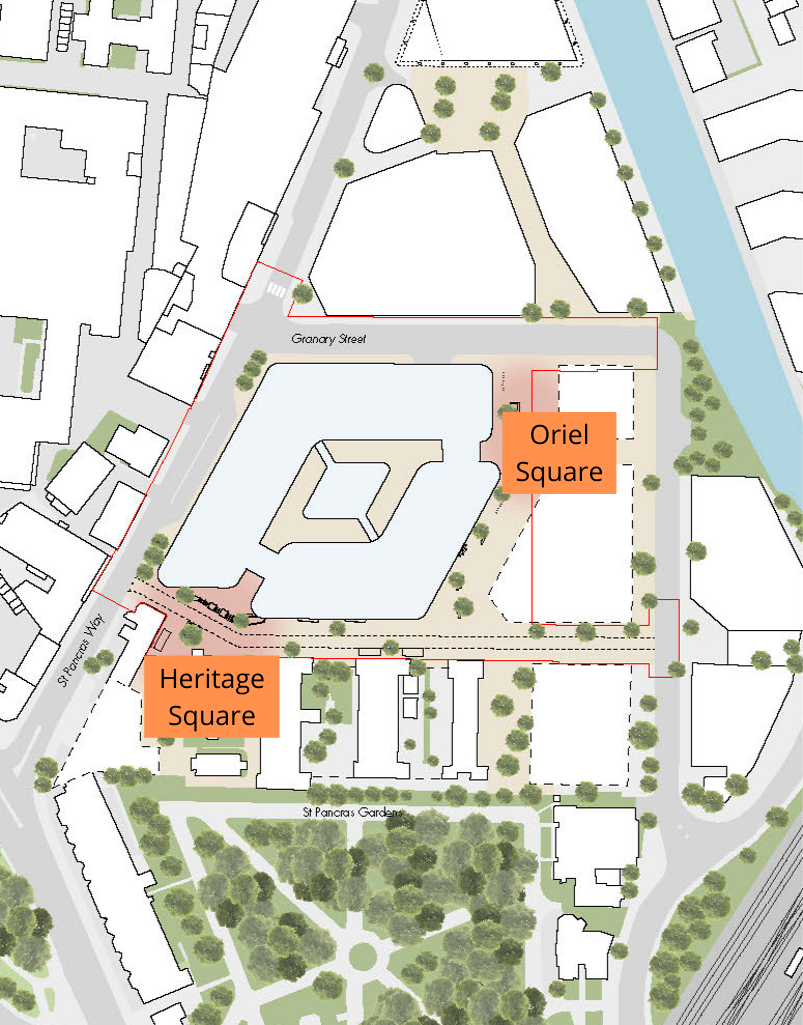 Public realm plan with two new public squares
Public realm
In previous consultation feedback, people emphasised the need for good road access, but also for pleasant outside spaces with plants and trees and a link to St Pancras Gardens. These features are important to help reduce stress and improve patient experience.
The new building sits in a larger new development which will be car free, other than for service vehicle access and blue badge parking. There will be new pedestrian-only streets, public squares and buildings that create a high-quality urban realm. The building is bounded by St Pancras Way to the west and Granary Street to the north. These roads provide access by motor vehicles, with the primary drop-off and pick-up area on St Pancras Way. A second taxi pick-up and drop-off point is located on Granary Street.  Both roads lead to one of the two public entrances of the building.
People arriving to the new centre can enter the building from one of two new public squares. The lower entrance to the south is accessed from Heritage Square, adjacent to St Pancras way. A clear route will be opened up between this new square and St Pancras Gardens.  The upper entrance to the north will be accessed off Oriel Square, leading off Granary Street. A new bridge over Regent's canal will connect Granary Street to the King's Cross shopping area. Both entrances into the centre are equal and lead to the reception area in the heart of the atrium.
The landscaping around the building will be planted with trees for shade and places to sit and rest. Planters containing shrubs and trees will also include seating and provide natural interest and greenery around the building.
In order to maintain the safety and security of all pedestrians, particularly those with sight loss, distinctions will be made between cycles and pedestrians on the main east-west route through the site. In the rest of the development, cyclists will need to dismount.
A masterplan for the wider development is currently being developed by Camden and Islington NHS Foundation Trust's development partner, KCCLP. The Oriel team have worked closely with KCCLP in order to ensure the design of Oriel's new centre and KCCLP's emerging masterplan are coordinated and coherent, and that the needs and requirements of Oriel's users are embedded in the public spaces and landscape design.