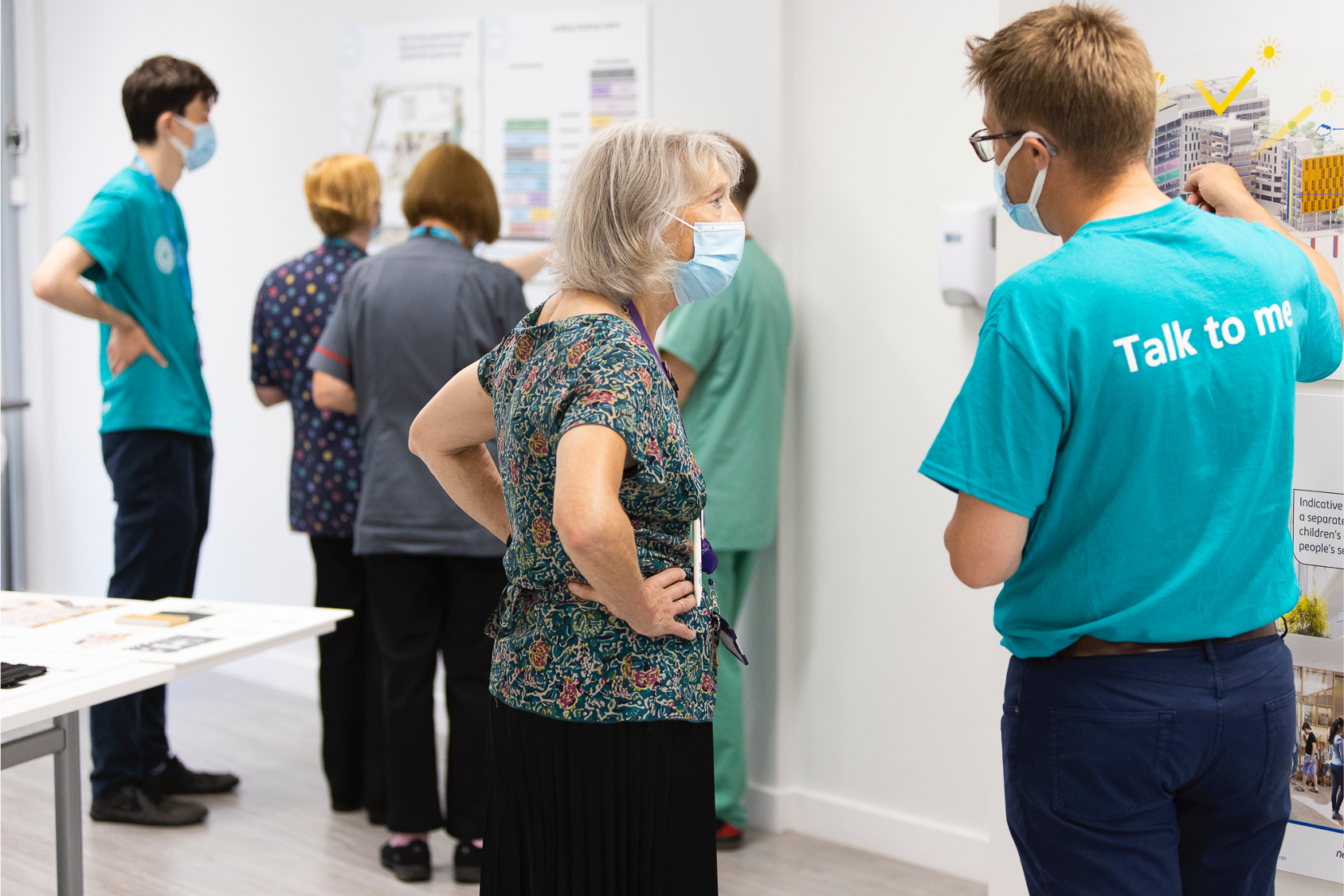 An image of people viewing the displays at the Oriel Exhibition Showcase.
Oriel Showcase Exhibition – Summer 2021
Taking place over three days from 20-22 July, the Oriel Showcase Exhibition was an opportunity for staff, patients and other interested parties to hear about the move to a brand new integrated centre at the St Pancras Hospital site in Camden.
Thank you to all of those who could attend and provide feedback. If you couldn't make it to the in-person exhibition, please scroll below to find videos of the exhibition, links to displays and documents.
If you require exhibition materials such as the description of the exhibition and the exhibition programme in Braille, or tactile layouts of the building, please email the Oriel team: moorfields.oriel@nhs.net and we will organise this for you.
Oriel Showcase Video 
Watch the below captioned video of the Oriel Showcase Exhibition.
Oriel – video of exhibition content
Watch the below for an audio described video of the exhibition displays and content.
Oriel Showcase Exhibition Presentation in PowerPoint format
Virtual Showcase Exhibition in PDF format
Oriel Showcase Exhibition Display Images
Exhibition description in Word format
Exhibition Programme in large-print
Exhibition Programme in standard-print
An audio described film of the last half mile route
A flythrough video of the design
A Word version of our final outcome report summary
A PDF version of our final outcome report summary
A audio described video about Oriel
How to share your feedback
We want your views on the early designs of the new centre. More information on the designs can be found on our proposed design. Send us your feedback on our preliminary designs by email: moorfields.oriel@nhs.net. This feedback will be essential in helping us design a centre that is modern, fit-for-purpose and accessible for patients, carers and other users.